The bird pictured here was hatched at Mallard Lane Farms, in 08, she is the offspring of a split/silver hen and a silver drake. She is much lighter colored than a normal silver, almost white, but does not have the pink bill or eyes that a white hen would have. The bill and legs are more the color of apricots. This bird hatched out yellow as whites do, not gray like silvers. I do not have much information about this color at this time, and I am hoping to learn more about it in the 09 breeding season.  One interesting fact is that there is no record of any drakes with this coloration, all platinum birds to date have been female.
The picture below contains wood duck ducklings of several different colors (and 1 call duckling,  right corner).  There is 1 apricot, 3 silver, 2 regular colored, and 1 platinum (middle back)
In 2009 we were unsuccessful at raising any platinum males. The original silver male that produced the platinum females unfortunately died early that spring before he could mate with his platinum hen. In 2010 we did have the success and raised a few males in this color. The platinum drake is basically a very light silver. He almost appears to be a cross between a white and silver, however their is no white bred into this bird's background. 
See pictures below of 3 different colored male wood ducks.  To the left back platinuim, back right silver, and front white.
Another picture platinum front left, silver middle back, white right.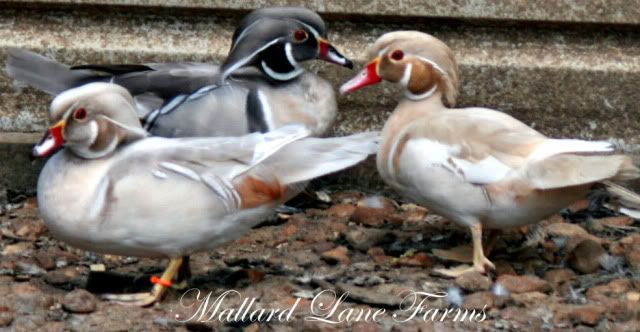 Picture of silver and platinum males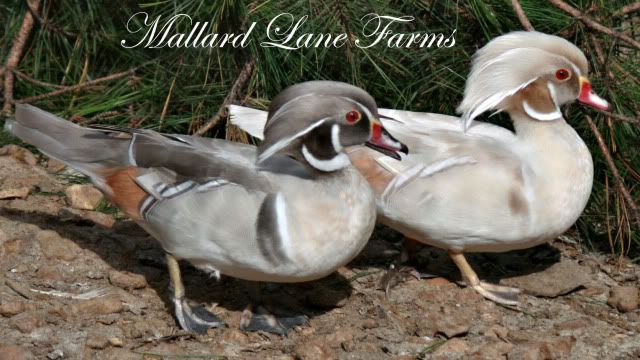 Picture of platinum and white, notice the white has an overall buff shading, while this is gray-blue on the platinum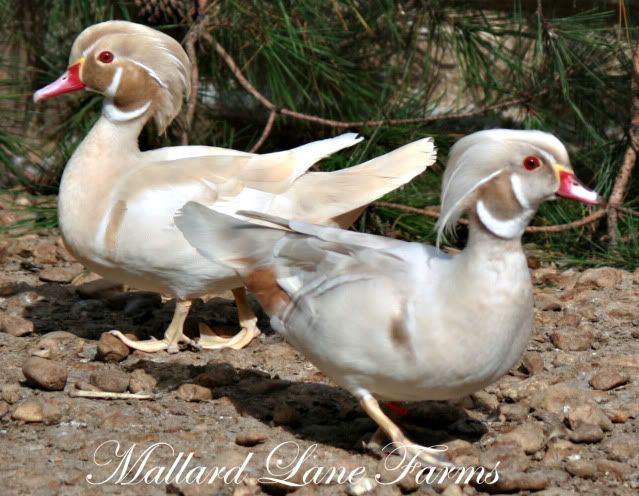 We are still learning about the genetics behind this color, and only have theories as to how platinum works. Right now we believe that this is a sex linked color and it works in much the same way as apricot and white.